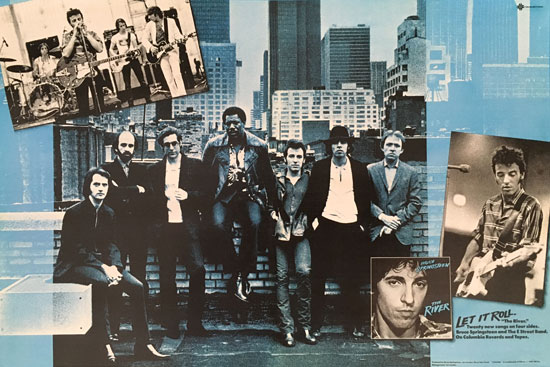 On the eve of the 35th anniversary of The River — Bruce Springsteen's 20-song double-LP was released on October 17, 1980 — comes the long-awaited news that Bruce's first #1 album will appear as part of a massive box set in time for the holidays. For longtime fans, the big draws will be more than two-and-a-half hours of stunning, multi-camera concert footage from the River tour's stop in Tempe, Arizona, and 11 previously unreleased studio outtakes.
These elements are part of The Ties That Bind: The River Collection, a multi-disc collection due December 4 that follows in the tradition of Born to Run 30th Anniversary Edition and The Promise: The Darkness on the Edge of Town Story. Like those box sets, the 4-CD/3-DVD The Ties That Bind gathers remastered audio for the album itself along with never-before-seen concert footage and a Thom Zimny documentary; like The Promise, it also includes previously unreleased studio outtakes from the album sessions. All of these elements will be housed with a coffee table book in a 10" x 12" box. A Blu-ray edition will consist of four CDs and two Blu-ray discs.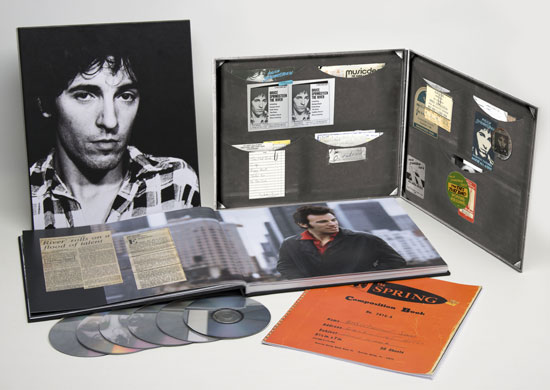 The audio: 52 tracks on four CDs, including the original The River double album (CDs 1 & 2); the first official release of 1979's The River: Single Album (CD 3); and a disc of 22 studio outtakes from 1979/80 (CD 4), half of which are previously unreleased.
The video: a newly edited film of never-released, multi-camera footage from Springsteen's famed November 5, 1980 show in Arizona — a particularly intense performance, the day after Ronald Reagan was elected president — with a running time of 2:40; rare tour rehearsal footage of five songs; and a new 60-minute documentary about The River, titled The Ties That Bind.
The set comes with a 148-page coffee table book picturing pages from Springsteen's notebooks, River-era memorabilia, and 200 rare or previously unseen photos, both studio and live, from photographers including Joel Bernstein, David Gahr, Jim Marchese, and Frank Stefanko. Text includes an updated Songs essay from Springsteen and a new essay by Mikal Gilmore, who describes The River as "pivotal... [the] hinge between the ambitious commotions that had preceded it and the more succinct musical riots, and sometimes terrifying storytelling, that followed."

Let's take a look inside the box.
CD 1 & 2: The River
This, you already know (and likely already have), but they couldn't really do a box without it. As with the Born to Run and Darkness sets, the Ties That Bind box lays the foundation with the full, original album — in this case, the 2014 remaster that was first released as part of The Album Collection Vol. 1: 1973-1984.
CD 3: The River: Single Album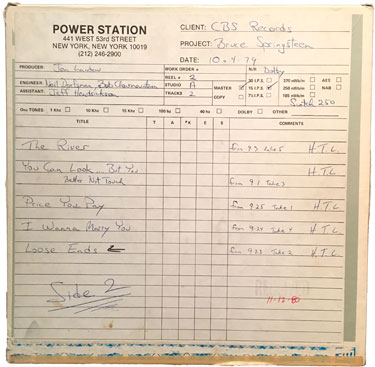 Springsteen's follow-up to Darkness on the Edge of Town wasn't always envisioned as a double album. In 1979, a single album was deemed complete and even turned in to Columbia Records before Bruce changed his mind and returned to writing and recording. This CD is what could have been and, in fact, almost was.
Fans have long referred to this early configuration as The Ties That Bind, based on an early cover mockup and the song's leadoff placement (where it would also appear on the 1980 double LP). Though this marks its first official release, the 1979 single album circulated on bootlegs for years [pictured here, the box for the Power Station reel that was discovered at a record show two decades ago] as a highly regarded record-that-never was, with alternate takes, arrangements, and altogether unique songs.
As Bruce tells the story in Songs:
...All the years I'd been performing, I'd often start the show with something that sounded like it came out of the garage. In the past, these were the kinds of songs that fell by the wayside when we went into the studio to record. For The River, I wanted to make sure this part of what I did wouldn't get lost.

After some recording we prepared a single album and handed it in to the record company. When I listened to it later on, I felt that it just wasn't good enough. The songs lacked the kind of unity and conceptual intensity I liked my music to have. So we went back into the studio and another year went by.... We decided to make The River a double record. I'd try for the best of both worlds: more pop songs in a looser conceptual framework.
This ten-track lineup shares plenty of DNA with what Bruce ultimately released in 1980, as evidenced by many familiar song titles:
1. The Ties That Bind
2. Cindy
3. Hungry Heart
4. Stolen Car (Vs.1)
5. Be True
6. The River
7. You Can Look (But You Better Not Touch) (Vs. 1)
8. The Price You Pay
9. I Wanna Marry You
10. Loose End
But particularly for those fans already very familiar with River material, there's quite a bit different here, from alternate mixes to completely different arrangements to songs unique to this collection. "Cindy" somehow missed being on Tracks or disc three of Essential, as did the rockabilly arrangement of "You Can Look." This sublime "Version 1" of "Stolen Car," vastly different from its counterpart on The River, did see the light of day on Tracks, as did "Be True" (previously the "Fade Away" B-side) and "Loose End" (note here the dropped final "s," likely Springsteen's original intent). There is also a noteworthy difference in "The Price You Pay," which features an alternate verse that Springsteen dropped for the album but revived on the 1980-81 tour, and even a subtle melody shift in the chorus of "The Ties That Bind."
These tracks were recorded at the Power Station in New York and mixed there by Bob Clearmountain, and recently transferred to digital via the Plangent Process for this release.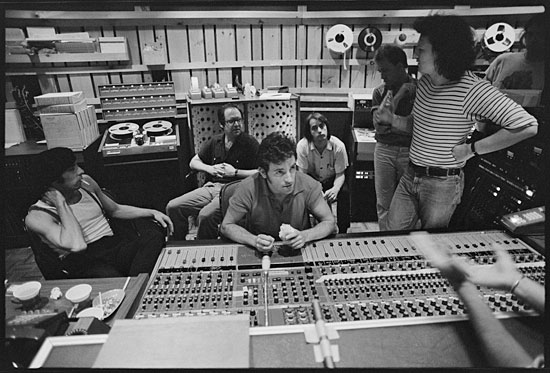 - The Power Station, New York, NY - photograph by Joel Bernstein
CD 4: The River: Outtakes
The final CD gathers 22 tracks that didn't make the cut for either the single- or double-album versions of The River. Half of these have never been released, and the CD is divided accordingly, with those 11 tracks lined up first as "Record One":
1. Meet Me in the City
2. The Man Who Got Away
3. Little White Lies
4. The Time That Never Was
5. Night Fire
6. Whitetown
7. Chain Lightning
8. Party Lights
9. Paradise By the "C"
10. Stray Bullet
11. Mr. Outside
While Bruce and the E Street Band performed "Paradise by the 'C'" in concert in 1978 and 1988 (and a live version is on Live/1975-85), a studio recording has never surfaced. The remaining ten songs will be heard here for the first time, never performed live or released, and in most cases only known as titles glimpsed on one of Springsteen's notebook pages.
Springsteen's outtakes often illuminate his songwriting process, the way he reworks lyrics and themes, borrowing from one song for another, and these are no exception. "Little White Lies" is a close lyrical cousin of "Loose End," the songs sharing numerous lines; you'll also find elements of "Point Blank" in "Party Lights," along with lyrics that Springsteen would go on to work into his live version of Tom Waits' "Jersey Girl." We'll also also meet Billy, Mary Ann, Johnny, and of course, Mr. Outside — the last of these from disc four's lone solo demo. The first ten tracks were recorded at the Power Station with the E Street Band.
Here's the leadoff track, "Meet Me in the City":
The back half of CD 4, considered "Record Two," gathers River-era songs from other titles, so that The Ties That Bind has all released 1979-'80 outtakes in one place:
12. Roulette
13. Restless Nights
14. Where The Bands Are
15. Dollhouse
16. Living On The Edge Of The World
17. Take 'em As They Come
18. Ricky Wants A Man Of Her Own
19. I Wanna Be With You
20. Mary Lou
21. Held Up Without A Gun
22. From Small Things (Big Things One Day Come)
The majority of these surfaced officially on 1998's Tracks, where they formed the bulk of the second disc — a stellar collection of songs and a frontrunner for Steven Van Zandt's favorite Springsteen "album." (The only River outtakes from Tracks not here on CD4 are already part of CD3: "Be True," "Stolen Car," and "Loose End.") "Held Up Without a Gun" was the B-side to "Hungry Heart," a studio version that had yet to make it to CD; a live version was released on 2003's The Essential Bruce Springsteen. "From Small Things" first appeared on Essential.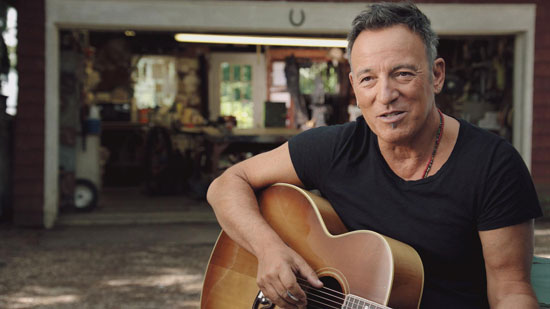 - still from The Ties That Bind - Director of Photography: Antonio Rossi
DVD/Blu-ray: The Ties That Bind: A Film By Thom Zimny
Produced and directed by Zimny, the 60-minute The Ties That Bind documentary features an intimate interview with Springsteen as he reflects on the tumultuous, extended period writing and recording The River. Zimny and DP Antonio Rossi captured Bruce in a private setting — his farmhouse kitchen, the backyard — in black T-shirt and jeans, telling stories behind the music of The River and illustrating his reflections with solo acoustic guitar performances.
"It's not the same journey as the Darkness film, in terms of studio stories," Zimny tells Backstreets. "It's a much more personal take on what he was going through at the time, in his own life, and how that's reflected in the struggles his characters are dealing with, like marriage and children."
"At the time I was poring through a variety of history books, just to contextualize myself," Bruce says in the doc. "I wanted to understand where I came from and what that meant... I devoured quite a few history books, just trying to get a sense of where everything came from." He also describes where The River's songs came from, along the way giving an acoustic reading of "Independence Day" ("part of a series of songs about my dad that weren't completely autobiographical, but were emotionally autobiographical") and a crucial portion of "Point Blank" ("that song makes its bones in the last verse").
Springsteen's capacity for observation rarely disappoints, and there's meat here for even fans who've been immersed in this material for decades — as when he notes that "the four songs on the last side of the record are all summational... they are all goodbyes, in one style or another." He describes the "quiet reckoning" of "Wreck on the Highway" before going into a performance of the album's final track.
The modern footage is interspersed with period concert film — camera angles Zimny didn't use in his Tempe cut, for instance — and rare photos of Bruce and the band in and out of the studio. The stills are an effective solution to what was originally seen as a sticking point: as Jon Landau pointed out a few years back, one challenge of making a River documentary was that they don't have the kind of in-studio footage that Barry Rebo shot for Born to Run and Darkness. But the wealth of never-before-seen photographs provides potent visual counterpoint to Bruce's recollections of the period.
"We really dug deep," Zimny says of looking for images for the doc. "Joel Bernstein opened up his full archive to us — we went through hundreds of stills. Jim Marchese, he was on tour with Bruce in '81... Davd Gahr has some amazing images. There are just so many shots I'd never seen before, gathering up this archive, the stills were just a dream to work with."
"It's just a very different feel from being in a studio listening to playback," the director rightly observes of his third album documentary. "Not having engineers or other voices come in gives it a very personal feel. It's powerful. It's a different approach to telling the story."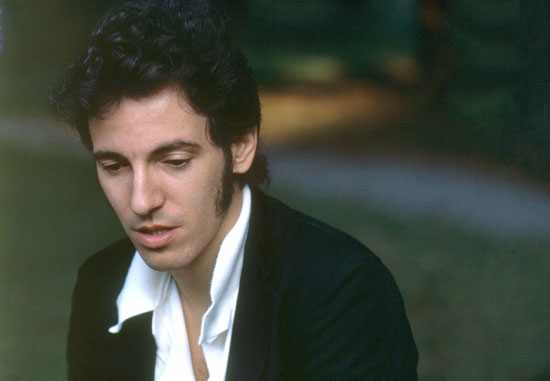 - photograph by David Gahr
DVD/Blu-ray: The River Tour, Tempe 1980
A true diamond from the Thrill Hill Vault, Tempe 1980 continues the tradition from the Born to Run and Darkness box sets of a previously unseen concert film from the era in question. It's also a step up. While the Hammersmith '75 and Houston '78 films are astonishing historical documents in their own right, considered as concert films, neither quite hit all the marks. Hammersmith is dark, with subdued lighting and tight shots that make it at times difficult to get a sense of what's happening on stage. Houston, as its subtitle noted, was a house cut: as captured by the venue at the time, it was a set-in-stone piece before Thrill Hill even got their hands on it, with no room for editing choices.
Enter Tempe. Shot professionally by a four-camera crew and newly edited by Thom Zimny, this new 24-song concert film brings the E Street Band fully into the light. The audio was mixed in Stereo and 5.1 surround by Bob Clearmountain from the original multitrack recordings. For so many of us whose main visual experience of the River tour has been via photographs, looking up at Springsteen under Marc Brickman's lights, this plays as a photo come to life. A far cry from the muted colors and relatively static camera work of Largo 1980 — another house cut, and to date the best video that has circulated from the period — Tempe 1980 feels vital and dynamic. Cutting together footage from four well-placed cameras, Zimny is able to capture the details of what's happening on stage — lingering on a look, a dance move, a moment of communication among the band — and also pull back and go wide, or cut to a shot of the crowd for a real sense of being in the building.
Zimny, himself a longtime fan, was amazed at the footage, describing to Backstreets his own excitement over "getting to see the 'Cadillac Ranch' breakdown, the beginning of 'I Wanna Marry You,' a lot of those 'bootleg moments' that you just never saw. And hearing it with the Clearmountain mix is intense."
1. Born to Run
2. Prove It All Night
3. Tenth Avenue Freeze-out
4. Jackson Cage
5. Two Hearts
6. The Promised Land
7. Out in the Street
8. The River
9. Badlands
10. Thunder Road
11. No Money Down
12. Cadillac Ranch
13. Hungry Heart
14. Fire
15. Sherry Darling
16. I Wanna Marry You
17. Crush on You
18. Ramrod
19. You Can Look (But You Better Not Touch)
20. Drive All Night
21. Rosalita (Come Out Tonight)
22. I'm a Rocker
23. Jungleland
24. Detroit Medley
If Hammersmith and Houston have anything on Tempe, it's that they're complete documents. While the film runs well over two-and-a-half hours, and 24 songs doesn't feel skimpy, this is not the full show as performed in Arizona that night. Asked the reason why, Zimny gives a reason that's hard to argue with: more footage simply doesn't exist.
"All the footage that was available from Tempe was used," Zimny tells us. "No one, for instance, cut 'Racing in the Street' because they didn't like it — there was no editing in that sense. We used every frame of what we had available, down to the DVD menus."
As Zimny explains, the intent behind getting a film crew to Arizona 35 years ago was never for a concert film, but more likely for publicity purposes. "There were no DVDs, no streaming, no real concert film market at that point. There were no plans for this in the '80s to be released as a concert." He likens it to the Phoenix '78 filming that resulted in the "Rosalita" music video: "It was used for commericals. It was just cut up."
Illustrating his point, here's how they made use of the Tempe footage six years after filming (look for the sportcoat and sideburns):
"Really, we got lucky that this was documented at all," Zimny says, "to have this much, since there was never a plan for this to be representative of a full show."
Viewed in that light, we have to wonder, then, why so much was captured, and so well. Zimny laughs and mentions George Travis, Springsteen's longtime Tour Director, who was also on the scene at the time and whom Thom spotted in the Tempe footage. "Until that minute, I wondered that myself: why was it so well-covered when there was no demand for it at the time? This four-camera beauty, all the cameras being in the right places.... I didn't know why it wound up being so great. And then I saw that George was there, and I knew."
DVD/Blu-ray: The River Tour Rehearsals
A bonus from the Thrill Hill Vault, this is five songs as rehearsed by Bruce and the E Street Band at Clair Brothers Audio in Lititz, PA, in late September, prior to the start of the 1980-'81 tour. While rehearsal video from Lititz has circulated previously, this footage is superior — close up, sharp, with crisp sound — and just plain more interesting than what we've seen. "Ramrod, "Crush on You," and "Sherry Darling" are totally new to us.
1. Ramrod
2. Cadillac Ranch
3. Fire
4. Crush On You
5. Sherry Darling
We're sure to get advance tastes of The Ties That Bind: The River Collection between now and December 4; on iTunes, "Meet Me in the City" is already available for individual purchase. Other than digital tracks, however, we don't expect individual components to be broken out and sold seperately as with Hammersmith and The Promise; as one source close to the project tells us, "Even more than the previous box sets, these pieces are really meant to fit together, to tell the full story of The River."
- Christopher Phillips reporting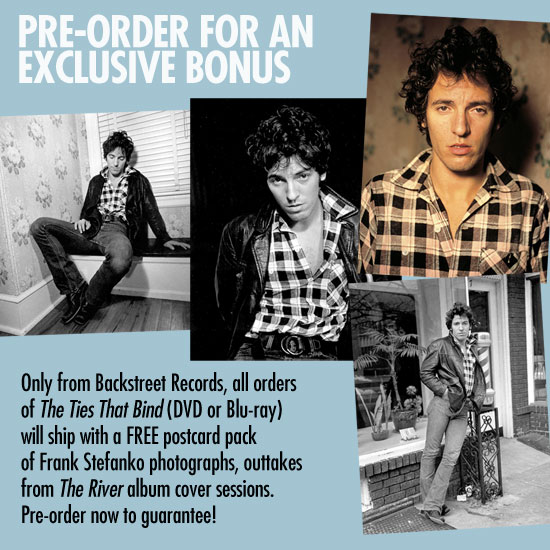 Pre-order The Ties That Bind (DVD) with exclusive postcard pack
Pre-order The Ties That Bind (Blu-ray) with exclusive postcard pack