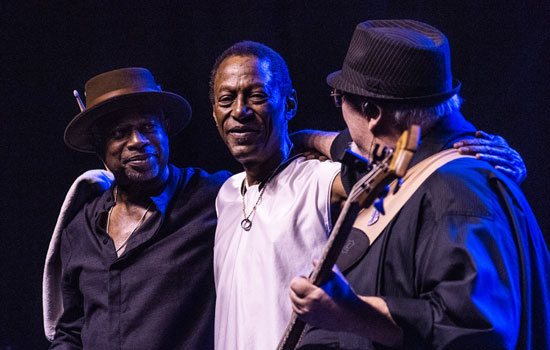 The jazz trio Tone, reunited in 2019 (L-R): David Sancious, Ernest Carrter, and Gerald Carboy - photograph by Barry Schneier
The evening of Sunday, October 6, 2019 was a special one for fans of the early E Street Band — and of progressive jazz-rock fusion. The Bruce Springsteen Archives & Center for American Music at Monmouth University presented An Evening with Tone, hosted by Bob Santelli, Founding Executive Director of The Grammy Museum.
Inside the University's Pollak Theatre, Santelli conducted an onstage conversation with all three original members of the jazz-rock fusion band Tone, aka David Sancious & Tone: multi-instrumentalist extraordinaire Sancious, drummer Ernest "Boom" Carter, and bassist Gerald Carboy.
The conversation was followed by Tone's first live performance together in more than 40 years.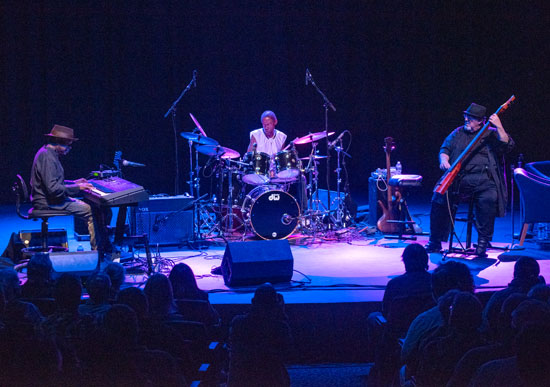 Santelli began the evening by noting that this was the first in a series of similar events being planned by the Springsteen Archives. While the Archives already has recorded individual oral histories with many of the musicians most closely associated over the years with the Jersey Shore music scene — including all three members of Tone — this new series will allow audience members to hear these musicians' stories told within a live context, accompanied by live musical performances.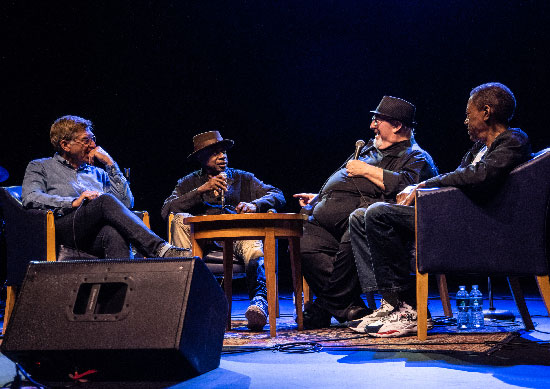 The Evening with Tone storytelling ranged from all three musicians' experiences with Asbury Park's legendary after-hours Upstage club, Sancious' and Carter's E Street Band days before the formation of Tone, the exploding progressive-rock and jazz-rock fusion scenes of the 1970s, and of course record-industry headaches along the way.
One highlight of the storytelling included guest commentary from photographer Barry Schneier, whose book Bruce Springsteen: Rock and Roll Future chronicles Bruce Springsteen & the E Street Band's legendary May 9, 1974 night at the Harvard Square Theatre in Cambridge, MA. Schneier was the only professional photographer present on that historic evening, resulting in a rare, beautiful set of photos depicting the Sancious/Carter-period E Street Band. (The photographer was on hand to sign copies of his book following the event).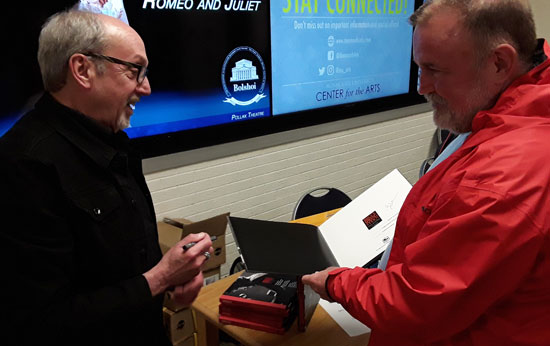 Barry Schneier (left), signing books at the Pollak Theatre following An Evening With Tone - photograph by Shawn Poole
Santelli asked Schneier to describe what it was like to see that short-lived version of the band perform live and in person, in such an intimate venue. Boom Carter then cracked up the entire crowd with his recollection of that night — being approached by a fan after the show, who told him, "I loved your saxophone playing tonight!"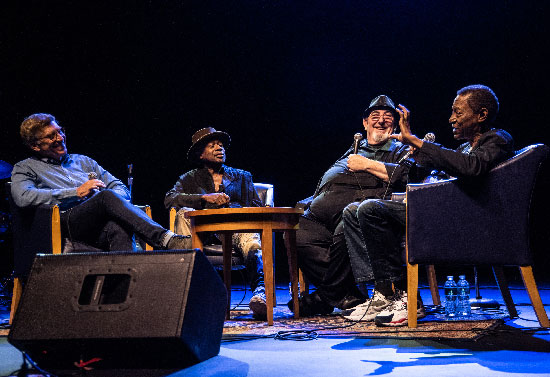 Sancious elaborated on how supportive Springsteen remained after he and Carter left the E Street Band to join forces with Gerald Carboy for the Tone project. Being a staunchly independent artist himself, "nobody understood better than Bruce" their reasons for pursuing their own artistic visions, Sancious noted.
Sancious also recalled learning that Bruce often quietly checked in with his contacts at Columbia's subsidiary Epic Records, where Tone had its first contract, to make sure the label was treating his former bandmates right.
His friendship with Springsteeen lasts to this day: "I'll play with Bruce any time," he noted. Indeed, Sancious' keyboard work can be found in tracks on Springsteen's most recent album, Western Stars.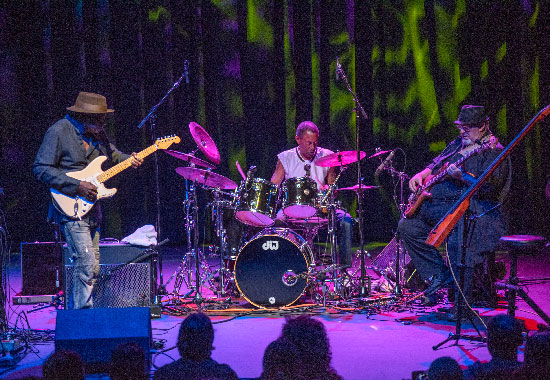 After the stories came the music. The band performed just three selections: "Prelude #3" from 1978's True Stories, "Sky Church Hymn #9" from 1976's Transformation (The Speed of Love), and an untitled improvisation. But for many in the audience who had never witnessed a Tone performance before (this writer included), it was enough of a glimpse to prove what a great, unique band this was — and is.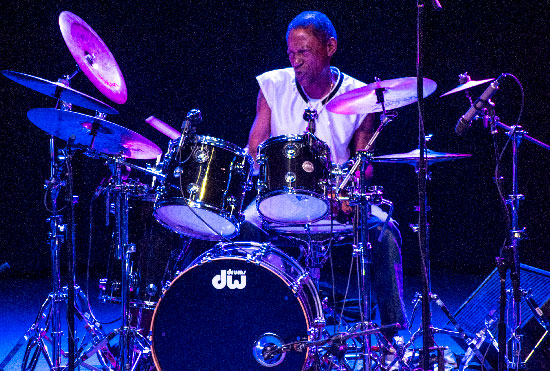 It also provided physical proof of something Bruce Springsteen told Dave Marsh about David Sancious way back in 1976, while Marsh was writing Born To Run: The Bruce Springsteen Story: "When we first played together, in the ten-piece [Bruce Springsteen Band,] he was a real wild man. He had that rock 'n' roll thing in him — it always seemed like he might be the next Jimi Hendrix. He had the potential to be that."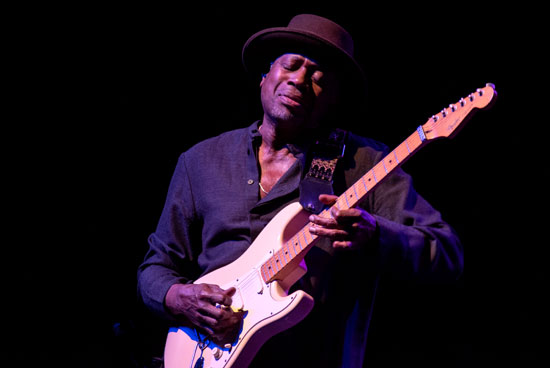 Sancious' long-dormant inner Hendrix certainly got some stage time during this relatively brief reunion performance, much to the bandleader's apparent delight.
"If you ever get the chance to play with people you haven't played with in 40 years," he told the crowd, "do it."
Here's hoping that much less time will pass before Tone's next gig together.
Be sure to catch Bob Santelli's new Soundstage (Episode 1) interview with David Sancious about his newest album, Eyes Wide Open. The interview will debut on Thursday, July 2 at 10am ET.
Soundstage, a new monthly online series presented by the Springsteen Archives, will explore new works, trends, and contemporary issues in American music. Episodes of the series will be accessible to all via the Archives' website and Facebook page.