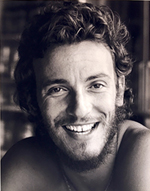 LIMITED EDITION SPRINGSTEEN PRINT
Outtake from the Wild & innocent sessions by the late David Gahr, 8x10 fine art print in an edition of 300
A rare opportunity to own an original Gahr print without breaking the bank, exclusively as part of this Book + Print Set from Backstreet Records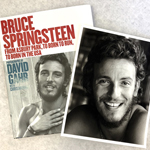 The David Gahr book from Rizzoli, a wonderful collection of Springsteen photos signed by editor Chris Murray, is also available separately.
Read our interview with Chris Murry here
Backstreet Records is the mailorder division of Backstreets, delivering Springsteen merchandise to fans for more than 25 years. We carry numerous collectibles, tour shirts, books, magazines, and imported CDs and records.
The world's best selection of Springsteen collectibles, all available by mail.
See all the new arrivals in our online shop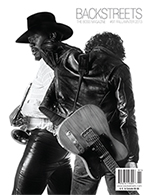 #91 IS HERE!
Our massive new issue honors a very Big Man. More than half of the 116-page, perfect bound Backstreets #91 is a tribute to the life and music of... do we have to say his name?

Full contents list


Subscribe now!


Order a single copy


Back issues
---


Springsteen vs. Dylan: on 3/22 in "March Bandness" on Detroit's WCSX, and April 4-8 on WFUV.


Saints in the City: dig a 1974 photo of Bruce and Bowie in the studio (taken by Ed Sciaky) at davidbowie.com.


Check out a new CNN.com profile of Joe Grushecky: "Rock's best kept secret."


Little Steven masterminds Outlaw Country radio.


On March 22, Little Steven will host a screening of "Rock is Fifty!" and moderate a panel discussion with original members of Bill Haley's Comets, at NYC's Museum of Television & Radio.


According to Billboard, long awaited Boss/Killer duet to be released in May or June.


Bruce's 11/20/98 appearance on Charlie Rose available now at audible.com and in the iTunes Music Store.


The latest exhibit at DC's Govinda Gallery: Ken Regan's photos of Dylan's Rolling Thunder Revue, including one of Bruce and Bob backstage in '75.
-Updated Mar. 26, '05
---


We also post all known concert dates for some of our favorite Jersey Shore (and Shore-adopted) musicians:

Patti Scialfa


Bobby Bandiera


Southside Johnny


John Eddie


JoBonanno


Joe D'Urso... and more.
For more information on upcoming shows such as these, check out our Concert Calendar.
Updated Mar. 14, 2005
---


SAVE TILLIE
Many from the Springsteen community banded together to preserve this Asbury Park landmark.... and Tillie has now been saved!
Check our Save Tillie page for the latest developments.
Updated Feb. 12, 2005
---
THE SPRINGSTEEN SPECIAL COLLECTION AT THE ASBURY PARK LIBRARY
Organized by Backstreets and donated to the Asbury Park Library in 2001, this storehouse of Boss books and magazines is the largest such collection outside of Bruce's mother's basement. Thanks to the generous donations of fans around the world, total holdings are now well over 3000. But the collection is by no means complete.
Check out the Springsteen Special Collection page for more info.
Updated Sept. 12, 2004