VERIFIED FAN DEADLINE APPROACHING FOR SPRINGSTEEN IN BRANSON
Don't forget: while Bruce Springsteen's Broadway show may not be heading west until 2019, Verified Fan registration for the Springsteen in Branson run closes at the end of the week! Be sure to submit your Verified Fan entry now in order to be eligible when Branson tickets go on sale on Yom Kippur.
Remember, even if you already registered for Verified for Broadway, you'll still need to re-enter for Springsteen in Branson — unless you scored tickets in the second wave, or had trouble in the third tier after re-submitting for Verification. If you were standby during the original sale, or purchased balcony seats in the most recent sale, you can bypass the latest Verified registration, but only Broadway Verified fans can be pre-verified for Branson. Codes will be distributed via CAPTCHA-encoded email 12 hours prior to the onsale, unless you provided a mobile number, in which case a special encryption key will be provided via two-step verification (with no e-mail alert). We recommend practice with storefront recognition, and matching the credit card billing and shipping address, unless on standby. And be sure to fill out forms in triplicate.
- April 1, 2018


WE HAVE SEEN THE FUTURE: LANDAU WOWS ON BROADWAY
A rare change in proceedings at the Walter Kerr Theatre last night for the 102nd performance of Springsteen on Broadway. With Patti Scialfa under the weather, Springsteen chose not to go it alone this time, but instead to have an old friend fill her shoes.
"Ladies and gentlemen... Manager! Producer! Theater impresario! My good friend, Mr. Jon Landau."
Landau took the stage to great applause, with mic in one hand and martini glass in the other, cracking Springsteen up as he asked, "How did all of these people get in my room?" But his guest spot wasn't played for laughs. Theatergoers had been alerted to the change at the outset of the night, with a printed slip inserted into the Playbill. While it seemed a little tongue-in-cheek, noting that for this evening, "the role of Patti Scialfa Springsteen" would be "performed by Jon Landau," that's exactly what he went on to do.
Landau has played on stage with Springsteen before, but typically just strumming along on guitar — never with a serious vocal turn. A great hush fell over the crowd as Springsteen began "Tougher Than the Rest" on the piano, and when Jon's voice joined his to harmonize — "some girls they want a handsome Dan..." — you could have heard a pin drop. All the better to appreciate what one theatergoer described as an "angelic singing voice... it sounded for all the world like Aaron Neville." Another attendee referenced Little Jimmy Scott. "Just... ethereal. I had no idea."
Between songs, Springsteen spoke a bit about his longtime manager, calling it "unimaginable" to think of his career without Landau at his side. "He's played such a significant part in this conversation we've been having all these years. And besides, I need somebody everybody else can blame for my mistakes! Thank you, Jon."
The pair stood side by side for "Brilliant Disguise," Bruce asking Landau, "You ready for this?" before turning briefly to the crowd, "Are you ready for this? Am I??" But he needn't have worried — by song's end, Landau's fluting trills were the highlight of the performance, his delicate harmony line floating effortlessly above Bruce's gruff lead, his right hand flittering up and down like a butterfly.
- April 1, 2018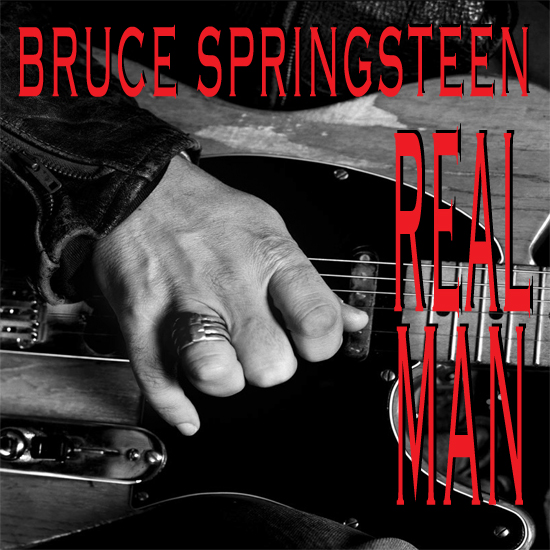 BEST BUY TO OFFER BONUS 7-INCH FOR ALBUM COLLECTION VOL 2
Accompanying The Album Collection Vol 2, 1987-1996 as a Best Buy exclusive is the legendary "Real Man" single, initially planned as a U.S. follow-up to the "57 Channels (And Nothin' On)" single in 1992 but never released.
As newly pressed by Columbia, the "Real Man" 7-inch single retains its original picture sleeve design utilizing a Timothy White outtake, backed by the previously unreleased B-side "Real Man (Little Steven Urkel Mix Version 2)." As circulated among collectors, the "Urkel Mix" contains dialogue from Rambo: First Blood Part II, The Maltese Falcon, and Family Matters.
- April 1, 2018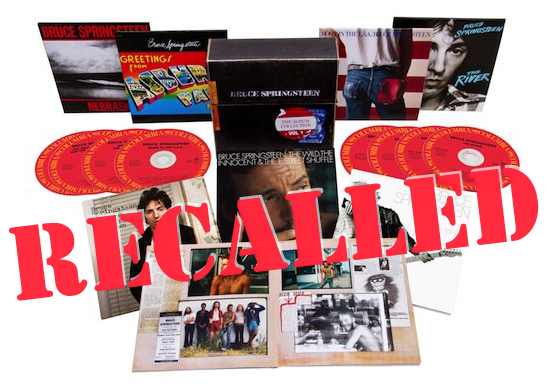 COLUMBIA TAKES ACTION ON ALBUM COLLECTION CDS
Kudos to Columbia Records for their rapid response to customer complaints, following news that The Album Collection Vol 2, 1987-1996 would appear as a vinyl-only release and not made available on compact disc.

Rather than let The Album Collection Vol 1, 1973-1984 be the sole CD release in the series, Columbia/Legacy Recordings has announced a recall of the compact disc format of that title. While customers will be permitted to keep their vinyl, those who originally purchased Vol 1 on CD will receive instructions as to how to return the 2014 box set.


Though it promises to be a considerable undertaking, "We're not terribly concerned about the logistics," says a rep for Columbia, who also suggests there will be no compensation for the recalled product. "I mean, everybody says, 'We already had this stuff anyway...' So fine. We'll take the CDs back, thanks." Some customers may be able to exchange remastered titles for an original. "People didn't seem to get that the original Greetings CD didn't use the master tape. So, heh heh, here you go!"

"It's not that we don't still believe in the compact disc as a viable and convenient format — we do; we just feel like it detracts from the joy taken in getting fans to re-buy the vinyl all over again. After all, you don't see people lining up in April for 'CD Store Day,' do you?"
- April 1, 2018