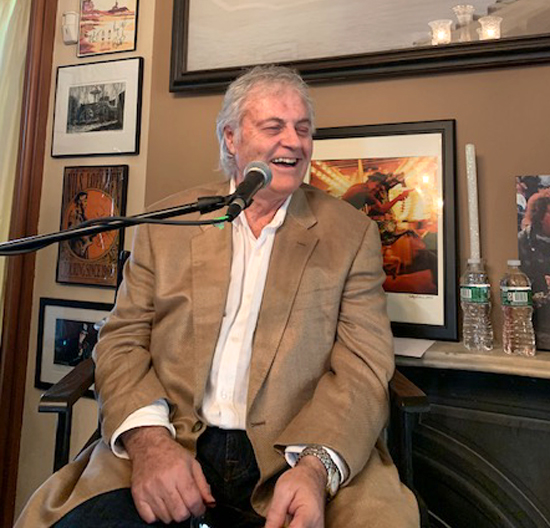 Mike Appel, May 19, 2019 - all photographs by Frank Fontana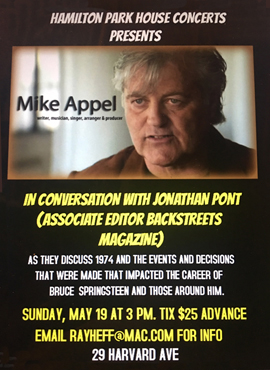 Mike Appel is not a man of few words. Ask him to recall a story from 1974 and you're going to get all the details as if it happened yesterday. Speaking in front of an audience in Staten Island, New York, on Sunday, May 19, Bruce Springsteen's first manager and producer shared colorful memories of Springsteen's rocky start and rise to stardom.

The nearly two-hour conversation, moderated by Backstreets Associate Editor Jonathan Pont, was part of the Hamilton Park House Concert series at the home of Ray Heffernan and Maureen Campbell. While there were many areas that could have been covered, Pont focused on 1974: the events and music of the year that shaped Springsteen leading up to Born to Run and the simultaneous covers of Time and Newsweek in 1975.

"There really was no plan in 1974," Appel said. "The plan was for Bruce to write hit songs, and for me to get promotion and to make money."

Appel, who first met Springsteen in 1971, set the scene by recalling that "Bruce wasn't writing hits, something that mainstream radio wanted. He was writing 'Blinded by the Light' and 'Spirit in the Night.'" When Bruce auditioned for John Hammond at Columbia Records, as Appel related the story, Hammond told them, "I have the power to get you on Columbia Records."

Columbia CEO Clive Davis was a big Bruce ally but was fired in May of 1973 after accusations of misappropriation of funds. That left Bruce without internal record company support and, within a year, he was almost dropped from the label.

"The executives were excited about Billy Joel at the time, and it was sort of a competition between Bruce and Billy at Columbia," Appel said. Things were rough in the Springsteen world when The Wild, The Innocent & The E Street Shuffle, which came out in November of 1973, didn't even sell as well as Greetings From Asbury Park, N.J., according to Appel. Going into 1974, he said, "We were very down."

Raising Cain
A key event occurred when Bruce played Brown University in Providence, Rhode Island, on April 24, 1974. Appel shared this story:
I had set up an interview for Bruce with the Brown University student newspaper prior to the show. In the interview, Bruce starts to badmouth — by name — Irwin Segelstein, the president of the CBS Records Division. Little did we know, Segelstein's son was going to Brown, and he and all of his friends were Springsteen fanatics. So when they all saw this in the press, they went to Irwin's son and raised Cain! He called his dad and raised Cain with him. Then his daddy decided to raise Cain with moi: 'What do you mean allowing him to speak that way about me!'

I said, if that's true... I was going to tell my first lie in the tenure of Bruce Springsteen: "Jeez Irwin, he's going to do an interview with Rolling Stone, can you imagine what he might say?!"

Irwin says, "You don't let him talk to Rolling Stone! You and your attorney and Bruce meet me at Mercurio's [an Italian restaurant in Manhattan] tomorrow at 1 o'clock." At lunch, it was like we never had the previous conversation. He sat down and was very cordial. And he said, "Listen, no more bad-mouthing me." Bruce and I said, "Okay." He said, "You want to do your record album?" We said yes. He said, "The axe is buried, right here and now."

I let out this huge sigh of relief, and we were able to start to record the rest of the songs for Born to Run.
It was around this time that Springsteen played "Born to Run" live for the first time, on April 28, 1974 at Swarthmore College in Pennsylvania. "Bruce had told me he had an idea for the next album: he wanted a Phil Spector sound," Appel said. "'Born to Run' had adult lyrics, not Phil Spector-type lyrics."
Not having an album to promote, Appel took a chance and sent a preview copy of the song "Born to Run" to about two-dozen disc jockeys he knew. What followed were angry calls from Columbia executives asking, "Why are we promoting a song when we have no album to sell it with?"
"That was when a guy my age had balls too big... and didn't realize the consequences that might occur," Appel said.
Changing of the band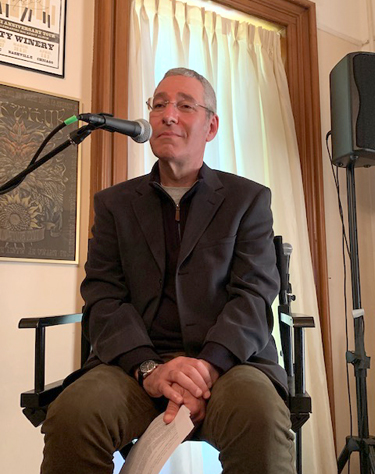 Pont [right] pointed out how Bruce had three different drummers in 1974: Vini Lopez, Boom Carter, and Max Weinberg.
"What killed me that particular year," Appel said of the personnel changes, "was when Davey Sancious got an offer from Epic Records, which was a sister company to Columbia Records, to get his own deal to do a jazz album with Boom Carter.
"I wanted to know who the guy was who did this," Appel said. "It was an A&R guy. I got his phone number and I said, 'This is Mike Appel. Are you telling me you're giving a deal to Davey Sancious, who is in Bruce Springsteen's band, and an incredible little drummer, his buddy, Boom Carter?' I said, 'You are cannibalizing CBS acts, from one label to another! What do you think I'm going to do? I'm going to go to John Hammond, I'm going to bust your balls!'
Word soon reached Sancious, who talked to Bruce about it, and then Bruce called Appel. "He says, 'Mike, you have to let it go.' I said, 'No, I don't! I can make everyone's life miserable. I'll just keep calling!' Bruce says, 'Mike, if he wants to go, he has to go.' I tried to argue that Davey and Boom are not some pickup musicians, like Chuck Berry uses at his shows and they don't mean anything to him. 'That is not us!' I was wondering how we were going to replace these two guys."
Of course, the search for a new drummer and keyboard player would soon land Max Weinberg and Roy Bittan in the E Street Band.
"I couldn't sit in there and do the auditions with Bruce. Bruce has a great deal of patience — I have no such patience," Appel laughed. "He was always asking me to come [to the auditions], and I only came by at the end when he was down to three: three drummers and three keyboards. There were no bad players; he had the pick of the litter.
"Bruce was a guy who was in no rush. He was absolutely content to go at his own pace," Appel added. "He told me, 'This is what I do. I'm not going back to college. I'm not getting a job. This is the only thing I know how to do. So, I'm in no rush. I want to make the right decisions, and I want to pace myself.' He was always paced — not in a rush like me."
Suggesting Bittan and Weinberg were the right men for the job, Appel told Bruce, "You don't know what they might come up with, and they'll be killer for you.' I said to Bruce, 'You make up your mind, this is your baby.' And he said okay to Roy and Max, and they have never dropped a beat and never dropped a note for 40 years."
Pont asked Appel if having Roy and Max in the band added new momentum. But if the fresh blood gave the band a boost during the recording process, it didn't solve every issue, as Appel related: "I had to push back the Born to Run tour, twice. Then Bruce got the album finished, finally. We had a big pow wow, and Bruce was going to sign off on the record. We were in his room, and I said 'Well, Bruce, it's your call: is the record done?' He said, 'I like "Born to Run," but I don't like all the others. So I threw the tape into the pool.'
"Thank God he wasn't talking about the master! Bruce was under tremendous stress during that period."
Appel's supportive response was a bit of a risk: "I'm thinking I can only do this one time, and either it may work or it may not work. I said, 'If you think you have another eight songs like 'Born to Run,' and you can write those, I'll tell Columbia that the record is not ready — Bruce still has another nine to go.' I was ready to do it. Bruce looked around the room — Clarence was there — and he said, 'Okay, it's good.'"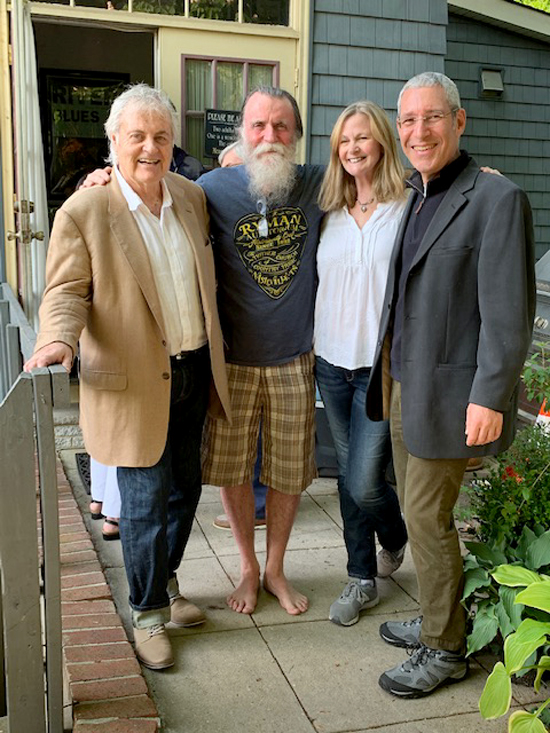 L-R: Appel, Hamilton Park hosts Ray Heffernan & Maureen Campbell, Pont - photograph by Frank Fontana
In the Park with Anne Murray
Back to the summer of 1974: Pont asked Appel to talk about the night Bruce opened for Anne Murray, a storied gig that was part of the Schaefer Music Festival at the Wollman Ice Rink Theatre in New York City's Central Park in on August 3.
One of the William Morris agents calls and tells me that they got us a date. "You're going to open up for Anne Murray," he says.

I said, "I don't think that's going to work. Can I speak to her agent?' I get a hold of him, and I said, "He can't play with Anne Murray." He says, "Of course he can." I tell him that we can't do this. Bruce can close the show…. He says, "But she has seven to eight hit records!" I'm telling him it's the totality of the act, and it's going to kill her.

The agent says he'll call Anne Murray's manager, Shep Gordon, who says, "Maybe Mike is right." And he's going to send his road manager to see Bruce when he plays the Bottom Line in July. He sees Bruce there, and Bruce is dancing on tables. Bette Midler and Peter Wolf are there. Bruce is just ripping the place apart. The guy sees the show, and I see him duck out early, so I say to him, "What do you think?"

The road manager says, "She can headline."

I'm like, "Are you kidding?! Did you just see the same show I did, or what?!" But he goes back and says she can handle it. I thought, this is going to be their worst nightmare. It's going to be worse than General Custer.

The night of concert, Bruce comes on first. It's 15 or 20 minutes in, and Bruce has two hours to go. The William Morris agent says, "Mike, can you get this guy off?" I said, "You said he could do his normal show… and he still has two hours to go." Anne Murray's agent, Gordon, then comes to me, and says, "Mike, you have to do something about this!" I replied that I had tried to do this the right way, and now you're stuck with it.

Later, I'm watching the show while standing on a ladder by the lighting, and I feel someone banging on my heel. It's Shep Gordon, yelling, "I want you to get him off!"

I said, "It's not happening, not in this lifetime!"

Bruce went through his two-and-half-hour show, and when he was done and Anne Murray came on, I looked around and there were 13 people left out of a 3,000-seat crowd.
Later that year, Appel noted, having heard about this concert, John Sebastian made sure he opened for Bruce and not vice versa at a show in October of 1974 at the Capitol Theatre in Passaic, New Jersey.
Playing the Roxy
The conversation shifted to October of 1975, when Bruce headlined the legendary Roxy on the Sunset Strip in West Hollywood and many stars came out to see him.
"At the Roxy, they have this camera that shows the show upstairs in a private club called On the Rox, where all the big celebrities hang out," Appel recalled. "I said, 'We can't do that.' The manager of the Roxy, Elmer Valentine, tells me that they do it all the time. So, I call [Roxy co-owner] Lou Adler, he gets on the phone and says, 'Mike, what seems to be the problem?' I tell him that nobody takes pictures of Bruce if I can help it. During his performance, we can't have the camera there. And not only that, all those celebrities who are up there [in On the Rox] tonight? They're not going to be up there; they are going to be down here. And that's what has to happen — or he will not play.
"Lou Adler tells me that he'll speak to Elmer," Mike continued, "and after that, they didn't have the cameras and all the celebrities were on the floor to watch the show."
It was a star-studded night. "Jack Nicholson was there and sat with my wife," Mike remembered. "Cher was there with Gregg Allman. Carole King was there with Gerry Goffin. It was terrific for a guy like me. I said to Carole, 'I know all your songs, I can sing all your songs!' For me it was a joyous event. It was all wonderful, all great."
It was during this time in Los Angeles that the famous double-shot of Springsteen cover stories hit newsstands.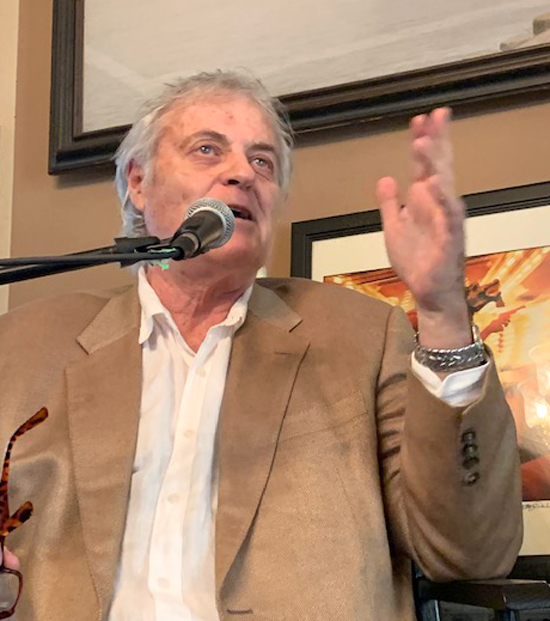 Tell your Mama I ain't no freak
Pont shifted the narrative to have Appel tell that story, of helping to get Bruce on the covers of Time and Newsweek in October of 1975.
Bob Altschuler, then-vice president of publicity at Columbia, calls me and says, "Time magazine wants to do a story on Bruce." I say, "Try and get the cover!" He says, "Ever hear of Barbra Streisand, Neil Diamond, Chicago? None of them have ever gotten the cover. What makes you think this guy will get the cover?"

So I said, "Then right now, it's no. And see if we can turn it around."

Out of the blue, Newsweek calls. Maureen Orth wants to do a story on Bruce Springsteen. A cover story. I call Bruce up and tell him about Newsweek — that Maureen wants to interview him, and she even will come down to Asbury Park to talk to him — and he says, "All right."

Then Bruce calls me back after the interview. It wasn't what he expected. He tells me that she asked him all the wrong type of questions. "I wasn't excited about it," he said. He was looking for Rolling Stone, for someone who had greater depth; this was a general interest magazine, and their writers don't ask those insightful types of questions — they don't look for that, I explained to him.

I told him I was going to still try to get Time, and he says, "I don't want to do it."

I say, 'Are you kidding me?! If we get Time magazine and Newsweek and get a chance to do both, and make history here, and you don't want to do it?!"
Columbia's Altschuler informs Appel that Time has decided they'll put Springsteen on the cover — but only if he doesn't do Newsweek. "I said, 'Well, he already did Newsweek, but don't tell them that. Let's see if we can get them anyway. Just go ahead and let's set this up." Hoping to "get lucky" and pull it off, Appel suggests that an interview with Bruce could be conducted on the flight to L.A. for the Roxy shows. The Time story moves forward.
So I call Bruce, and I said, "Guess what? We did get Time! And he says, "No! No! No! No!"

I told him, "Why don't you come up to New York, bring your girlfriend, have dinner and see a movie." Hopefully that will soften Bruce up, and then I'll take care of the rest. But he comes in from a dinner and a movie, and the first thing he says to me is: "No! No! No!"

He thinks it's crass materialism being played out on a huge stage. He's not ready to take that giant step in front of all those great musicians: Crosby, Stills, Nash & Young, Jimi Hendrix, Jimmy Page, and on and on. He hadn't "arrived" yet, in his own mind. But Mike Appel is way ahead of him. Bruce hasn't quite digested it yet, he's still adamant against it, but I didn't care — I was on a roll here, and I could smell it.

I said, "What if you are lucky enough to get on Time and Newsweek in the same week, and your band shows up at any newsstand — your band for life — and they see you on the cover of Time and Newsweek? You are giving them a jolt — from wherever they are living to celebrity city." The Kardashians of that day. He moved off his stance. I said, "You can do the interview on the plane — it will be fun." And that's how we did it.

It was like pulling teeth.
But that wasn't the end of the story. Both Time and Newsweek maintained, as Altschuler warned Appel, that if the other magazine did a cover story, then they would not. The result could be that neither would: "You're dead then." But Appel was on a mission, and he was going forward. "I say, 'Do you have the phone numbers for their senior editors?'..."
I call up Time first. They say, "We can't do it." I say, "Okay, your policy is what it is. But… big, arrogant Rolling Stone, they haven't done anything for us. You guys are talking about putting him on the cover. You're going to do it six months from now anyway [as a] Johnny Come Lately; Rolling Stone will put have him on the cover 17 times while you put him on the cover once. That's what they think of you anyway: old, tired giants."

The guy at Time says, "Mike, I told you." And I'm thinking, that didn't get me anywhere.

The guy at Newsweek says to me, "I got a story about the fiscal crisis in New York, and I'm putting Mayor Beame on the cover. If Time is going to do Bruce, I'm doing Mayor Beame."

I said, "I'm just a rock manager. What would I know about running a prestigious magazine like yours or Time? But if you think putting that mayor on the cover instead of a brand new rock superstar like Elvis Presley… is that what the public wants?"
Finally, Appel and everyone in the Springsteen camp just had to wait until Monday morning, when Time and Newsweek would hit the newsstands.
"Whether we had no covers, one cover, or both, I didn't know," Appel said. "I'm in L.A., and I go down to the newsstand, and I rip open the just-delivered packs. We got both covers!" he exclaimed. "I beat them all! It was one of the greatest things of my life, and I took a load of them back to our hotel. It's 6:15 a.m., and I'm yelling, 'Both covers! We did it!' Everyone around the hotel is reading the articles."
What happened next was surprising but very satisfying to Appel.
"Now it's like 9:30 in the morning. I've got angry people calling me," he said. "Stephen Stills' and Barry Manilow's publicists are calling me, wondering, how did I do this? Who did I pay off? But really, it was dumb luck. The reviews of Bruce all those years were great. All of those reviews cumulated in these Time and Newsweek covers — and it happened on my birthday. What a circumstance! It was a once-in-a-lifetime situation."
One of those phone calls came from none other than Phil Spector.
"The phone rings, I say hello, and someone says, 'Who is this?' I said, 'I don't know, you called me. Who is this?' He says, 'This is Phil Spector, and "Born to Run" sounds like Phil Spector to me!' And I said, 'That's because I was trying to copy the greatest producer there is.'
"Phil asked if Bruce can come over his house," Appel continued. "He gave me the address, and Bruce went over there at the end of the day. When he came back, he says, 'I never want to see that guy again!' He never told me why. But you can figure why."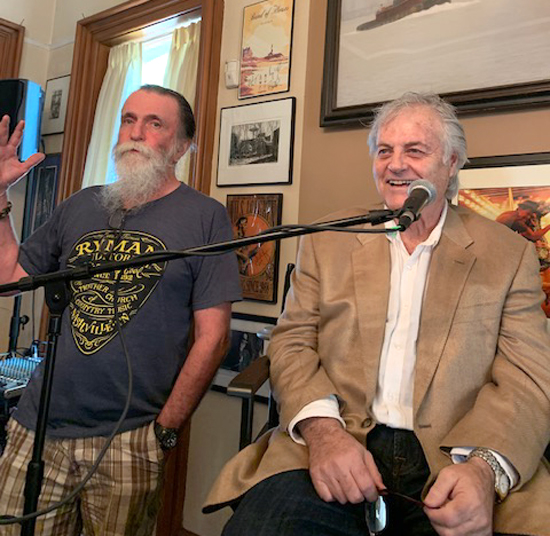 Adele Springsteen on the line
Appel told a few other stories, including how an attempt to improve the sound at a show at Widener College in Pennsylvania — padding the wall with sponges — could have turned disastrous. "We found out that if the sponges burned, they would give off a toxic yellow gas," Appel recalled. "People would hold up their cigarette lighters during the show, and we were scared: what if they started to burn? So we went around ripping it all down during the show."
Jon Landau was briefly mentioned, Appel saying that he was open to hear what Landau's ideas were when he started sitting in on the recording sessions for Born to Run. Appel also discussed Bruce's popularity in both Austin, Texas and Phoenix, Arizona in 1974.
Another interesting recollection was when Appel got a call from Bruce's mother, Adele, who wanted to make sure her son was doing okay given all the craziness going on. Appel tried to comfort her on the phone call. He also shared the experience of listening to Bruce putting together "Meeting Across the River" for the first time, and how much the Brecker Brothers added to the song.
A Q&A session with the crowd at the end brought some more stories. One audience member asked about E Street Band's name, if Appel could recall when Bruce first used it. "Well, I originally didn't want a band, but Bruce did," he said. "It was around the time I was putting together liner notes for the Wild & Innocent [album], when Bruce told me to label the band as the E Street Band."
After a little bit of discussion of the Partridge Family and David Cassidy — Appel worked in Wes Farrell's bubblegum factory penning songs for the Partridge Family — the afternoon ended with Appel reciting a story from a Broadway musical he is writing, Stage Door Johnny.
Overall, the Hamilton Park conversation was a great experience for Springsteen fans to hear these stories that are now about 45 years old. Maybe there will be a Part 2 in the future, as Appel surely has many more stories to share.