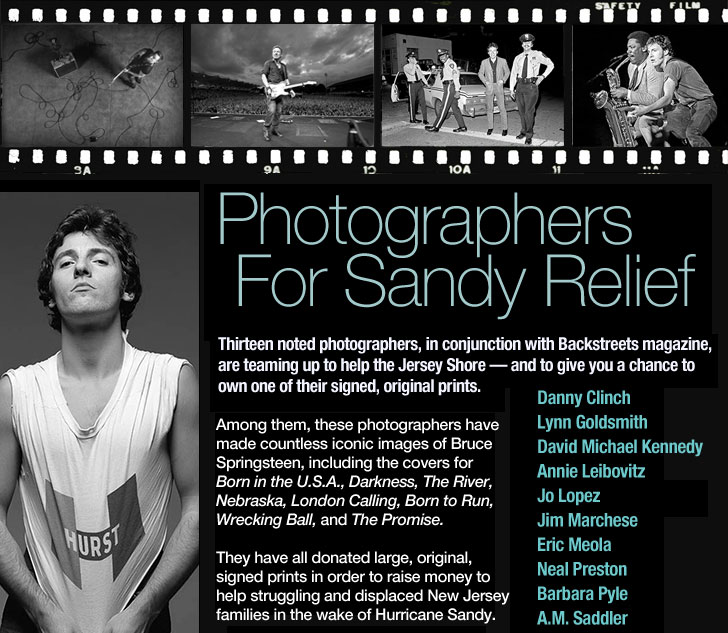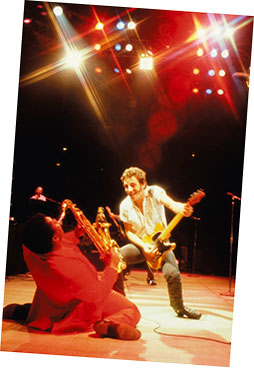 December 10 update: THANK YOU to the thousands of fans, and the photographers above, who joined with us once again to help the Community FoodBank of New Jersey and those who would otherwise go hungry in the Garden State. The FoodBank accepted the final donations for this effort at noon today and will be drawing names shortly to determine who'll be receiving the prints. Watch the Backstreets News page for the final results and a list of names drawn on Wednesday, November 12.
December 4 update: We just can't resist sweetening the pot... which is good news for you if you're donating, as your odds have increased yet again. Jim Marchese, official tour photographer for the European leg of the River tour, has joined our effort, donating this stunning Artist's Proof of Bruce and the Big Man to make 22 photographs that we have waiting for 22 lucky fans who donate. Check out the gallery below to see all 22 photographs including this Marchese image, shot in Stockholm in 1981.
November 29 update: Your odds have just improved, and in fine style! We have an additional print just added to the pool, from a legendary photographer: Annie Leibovitz is now one of our Photographers For Sandy Relief, and her 16x20 Tunnel of Love-era print sweetens the pot to make 21 photographs that we have waiting for 21 lucky fans who donate.
Three years ago, Backstreets teamed up with a dozen photographers, forming the ad hoc group Photographers Against Hunger... and Photographers Against Hunger teamed up with Bruce Springsteen fans around the world. With some spectacular prints as enticements, together we all raised $135,000 for the Community FoodBank of New Jersey in a time of need. Now, there's even greater need on the Jersey Shore, following the devastation of Hurricane Sandy.
Photographer Jim Shive, who made some incredible images of Springsteen in the '70s, called up his new Facebook friend Eric Meola last week to discuss how they could help some of the victims of Sandy. Shive's call jump-started Photographers for Sandy Relief, and a week later, Backstreets is excited to announce that we have another 20 incredible prints, donated by 11 renowned photographers, to give away to 20 lucky fans who join in this effort to contribute as the Shore recovers.
Together with Photographers For Sandy Relief, we're encouraging fans of Bruce Springsteen to give $25 to the Community FoodBank of New Jersey. In the aftermath of Hurricane Sandy, the FoodBank continues its outreach to the many people who have been affected by the storm. Over 100,000 pounds of food are being distributed each day to crisis centers and its more than 1,000 partner agencies throughout the state. The incredible need for food and other grocery items, however, has severely depleted the FoodBank's inventory. We've already heard from fans around the world who are concerned about struggling and displaced families in and around Bruce's hometown — and with Photographers for Sandy Relief, we can rally together to make a difference.
Great odds: a one-in-500 shot
For each contribution of $25, you'll be entered into a drawing for an original print by one of the Photographers For Sandy Relief. There is no limit to the number of donations you can make. We're capping the number of entries at 10,000 donations, and 20 very lucky people will be chosen at random to receive one of the signed prints that the photographers have given to the cause. The prints will be awarded randomly to each of the 20 randomly selected donors. But of course there are no "losers" here — everyone who donates will be helping a few people who would otherwise go hungry in post-Sandy New Jersey.
This is an incredible opportunity for lovers of photography and Bruce's music to own an original, signed print by the photographers who have made the iconic images of Springsteen's career — a chance at prints that would sell for thousands of dollars in a gallery, for just 25 bucks. And it is an incredible opportunity for Springsteen fans worldwide to make a small donation and in doing so, join together and help make sure that "down the Shore, everything's alright."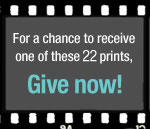 The prints
Among the prints are an original artist's proof cover print for Springsteen's album Nebraska, by David Michael Kennedy. It's a rare platinum-palladium print, in an edition of 1 of 1 (!!). Pam Springsteen has donated an image of Bruce writing a song by windowlight. Lynn Goldsmith has an astounding image of Springsteen with NJ police when he was stopped for speeding on Route 9.
New Jersey native Frank Stefanko has kindly donated two of his images from his many sessions with Bruce during the Darkness and The River period. Backstreets photographer A.M. Saddler gives us his "Working on the Highway" baptism shot that graced the cover of Backstreets #87. Barbara Pyle chose two of her images from the Born to Run era — one of Clarence backstage checking himself in a mirror, and one of Bruce relaxing on the tour bus. Danny Clinch's shot of a saxophone and guitar waiting in a concert hallway is a fantastic image of two instruments waiting for their masters. Jo Lopez's recent views from the drum riser of Springsteen in concert are coupled with another contribution, one of the last portraits made of Clarence. The instigators behind Photographers For Sandy Relief, Eric Meola and Jim Shive, have each contributed three black and white stunners, including Shive's dynamic "She's the One" shot of Bruce and Clarence in '76, and Meola's cover for The Promise.
All are original photographic prints signed by the photographers and donated directly for this cause. Backstreets and Photographers For Sandy Relief have put together this fantastic offer to make this relief effort affordable to anyone — to give everyone a shot, with the hope that you'll click over and over and donate as much as you can in return for the chance to own one of these rare prints.
On December 10, we'll close your chance to make a donation. Chris Christie, President Obama, readers of Backstreets... are you listening? Click on the thumbnails below for more information, and click here to make your donation and enter the drawing now!