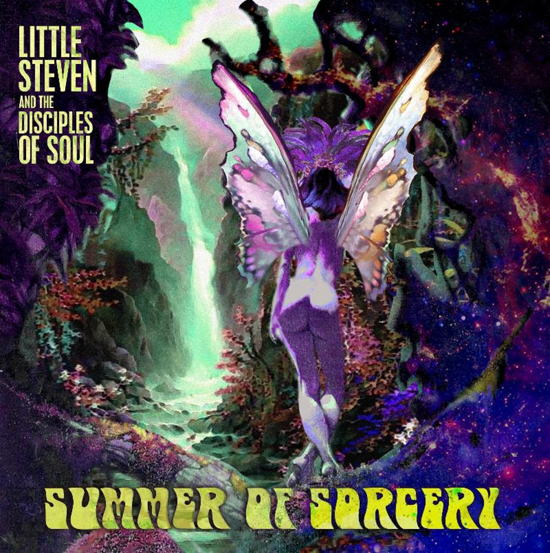 It's summertime in Asbury Park, New Jersey in the late '60s. The beach is thronging with daytrippers, and the blazing sun is bleaching the boardwalk. The bars are doing good business, and the heat haze makes the Ferris wheel appear to float towards the ocean. In the background, transistor radios are playing "Summer in the City" by the Lovin' Spoonful, "Groovin'" by the Rascals, the latest Beach Boys release, and various Motown and girl group classics. The teenage Steven Van Zandt is surveying the scene. He's standing on a street corner with his guitar, thinking about his girlfriend, preparing for his next appearance at the Upstage Club and dreaming about the potential of a future that's yet to be revealed, with the energy and excitement of youth pumping through his veins. Little does he know that on May 3, 2019, five decades into a rock 'n' roll rollercoaster ride of a career that he could never have imagined in his wildest fantasies, he will release Summer of Sorcery, a concept album by his future alter ego Little Steven that encapsulates the essence of summer and recalls a magical time "when dreams came to life and miracles were just around the corner.
Opening Titles
Two years ago, Little Steven reactivated his long-dormant solo career with Soulfire, which featured his own recent recordings of material that he'd written for other artists. It re-introduced his songwriting skills to the world at large but primarily celebrated his past achievements. Having previously adopted different musical genres on each album, he'd returned to his rock-meets-soul blueprint for the first time in 35 years and revealed that he wanted to "push it forward in an evolutionary sense." Instead of heading in a new direction, he planned to "stick with it and see where it can go. What happens with the lyrics and the stories? I don't know yet." Summer of Sorcery provides the answer.
Recorded at his own Renegade Studios in Manhattan last September, produced by Little Steven with Marc Ribler and Geoff Sanoff and mixed and mastered by Bob Ludwig and Bob Clearmountain, Summer of Sorcery retains Soulfire's cavernous wall of sound and stylistic blend, but the album largely abandons the personal and political subject matter that dominated his previous solo records in favor of fictional material.
"The concept was capturing and communicating that first rush of summer," Steven explained in an extensive press release in early March. "The electricity of the feeling of unlimited possibilities. Of falling in love with the world for the first time. Obviously there are occasional personal references, and a bit of what's going on socially scattered throughout, but I achieved what I set out to do. I'm quite proud of it."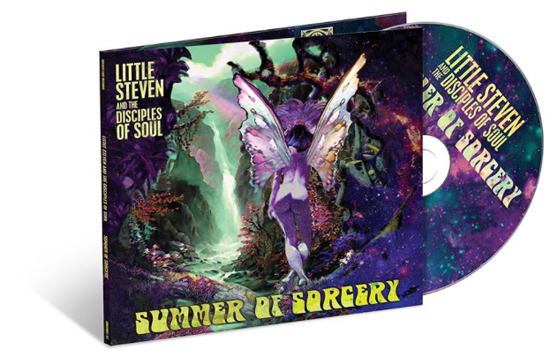 Summer of Sorcery is Little Steven's first album of all-new original material (except for a re-recording of "Education" from 1989's Revolution and "Suddenly You," a Lilyhammer outtake) in two decades. Although it immediately follows Soulfire in the gradually-expanding Van Zandt studio discography, it's really the natural successor to 1999's hard-rock Born Again Savage. Featuring Little Steven's lifelong production expertise, passionate vocals, and biting lead guitar, plus the effortless musicianship of the Disciples of Soul (who've now played over 100 shows together and are capable of performing any style of music, anyway, anyhow, anywhere), it's an eclectic mix of rock and soul, blues, Latin rhythms, funky grooves and — for the first time in a while — pure, uncomplicated, infectious pop music. The good kind, rooted in tradition and influenced by past masters of the art. In that way it represents the lighter side of Little Steven (but should not be confused with Little Steven lite) and evokes the spirit of the material that he wrote for Southside Johnny and the Asbury Jukes back in the day. While Soulfire reminded us of those seminal creations, Summer of Sorcery includes present-day updates from that facet of his musical personality.
The patented Van Zandt Magical Mystery Musical Blender has synthesized his multitude of influences with original lyrics, the best rock 'n' roll horn section in the business, and every song that's ever been released with "summer" in its title to produce an exciting, fast-paced album that's new yet instantly familiar and explores new directions on recognizable pathways. It features vocal and musical arrangements that range from uncomplicated and direct to adventurous and unconventional, and lyrics that are realistic and romantic ("I'm not a man for one night stands, for me that's never been where it's at; Maybe I'm a little old-fashioned, but what's so wrong with that?") and also surreal and impressionistic ("Naïve young soldiers smoking roses made lovesick by sad trombones; You gave me Rimbaud's poetry to calm me, as I crawled away on the railway station's cobblestones"). Different musical styles and lyrical themes weave in and out (sometimes in the same song), enticing hooks ensnare you, and small but important details reveal themselves with prolonged exposure. Was that a bird, a plane, a harpsichord or a sitar?
Most significantly, Summer of Sorcery is laced with humor ("I look back on my albums and wish I could've gotten more of my humor in there. I don't do that enough. By being less autobiographical, it allowed that playfulness to come in") and fun ("I wanted to recapture that feeling. We're drowning in politics. What happened to fun?"). The combination of these qualities with radio-friendly arrangements that radiate commercial appeal may surprise those long-term aficionados who are accustomed to Little Steven albums featuring weightier material, but there is no lack of substance if you look below the surface. While politics may have taken a back seat, direct and indirect lyrical references can be found almost everywhere. The fact that different musical styles rub shoulders with one another may initially disturb those who prefer Little Steven's previous consistency of style on each record, but this becomes less of an issue when you consider that all of this material was written, arranged, and produced by the same man. Little Steven has now maintained the rock-meets-soul blueprint on successive releases for the first time in his solo career, but Summer of Sorcery avoids repetition because of its variety. The only quality it shares with the rest of his output is its uniqueness. It's the latest addition to a highly individual portfolio and his most accessible record yet.
Little Steven describes Summer of Sorcery as "Our labor of imagination to serve as part of your soundtrack to the summer of 2019" and "A collection of fictional movie scenes that feel like summer." Continuing the filmic metaphor, it's a genre-hopping cinematic experience, a visual feast with complementary popcorn, which is best viewed at the drive-in on a sweltering summer evening down the shore with your significant other, when it's too hot to do anything but surrender to the music and allow it to wash over you like a healing, cooling wave rushing in from the ocean. The new songs represent nominations for best production, direction, and arrangement in the following categories.
Romantic Drama
Little Steven last wrote extensively about human relationships (familial, sexual, or otherwise), on his debut album Men Without Women in 1982. On Summer of Sorcery, he makes a welcome return to that style of writing with four first-person, non-autobiographical tales of love and loss, wrapped in uptempo arrangements that are often in direct contrast to the heartbreak and pain in the lyrics. "Love Again," previewed in April, is a contender for saddest song on the record. Its protagonist desperately wants to recapture the sensation of being in love. ("What do I have to sacrifice to finally break this curse, I'm drowning in self-pity while my heart just dies of thirst; I wonder if my ambition or my soul will dry up first"). The song also works well as a travelogue (listing numerous worldwide locations visited in an attempt to escape the pain), references Sam Cooke and Temptations lyrics ("I don't want no history books remembering my name; I spend my time wishing it would rain"), and namechecks one of California's finest ("I've got a picture of Brian Wilson that I pray to every night; Please let this be the first summer of the rest of my life.")
The Blaxploitation-influenced "Vortex," apparently set in Berlin (with images of "vampire sirens," "delirious chaos," and "sexual carnage") has a similar theme of desperation. Its subject is overwhelmed with desire. ("So cinematic, incarcerated in a video game; Hopelessly helpless infatuation, you entered invited, right into my veins; Your love's a vortex, tearing my heart out, spinning me round, pulling me under, taking me down.") But those feelings may not be shared. ("From the moment our eyes connected, I was a martyr for sure; If this is regret, give me more; You disappeared without explanation, stealing what should have been ours; You made me a man, I've still got the scars.") "Blaxploitation was going to show up somewhere, I just love that genre" says Little Steven. "It's a fantasy about the European club scene. A guy falls in love. Whether it's requited or unrequited, the audience can decide."
"A World of Our Own" was also previewed in April. "It's a girl group song I might have written for the Chiffons, the Ronettes, the Crystals, the Shangri-Las. A simple '60s pop song." It's not difficult to imagine any of those groups tackling this story of a boy and girl in love who want to isolate themselves from the harsh realities of life. ("First night we spent together, we talked all night long; Of all our hopes and dreams unrealized, and how the world's gone so wrong; Your joy for life was infectious, you broke my heart of stone; Made me wish we could live in a world of our own.") But cold, hard reality prevents their escape. "Look through any window baby, what do you see every day; A society divided by broken promises, a cold wind blowing our dignity away." They eventually conclude that their protective cocoon is a fantasy, and the only way forward is in a world where "no-one's left behind or alone."
"Suddenly You" is the shortest and slowest song and is perhaps the most surprising, given that Little Steven tries his hand at romantic balladry, virtually crooning the lyrics over a gentle Latin rhythm with solo trumpet flourishes. He's probably channelling Frank Tagliano (the song was apparently written for a Rio-based episode of Lilyhammer but was never used). It describes stereotypical scenes of lovers walking hand in hand where the "ocean kisses the sand." Having endured "lonely nights, endless days" listening to the "whispered caress of the waves, where the naked and the wasted come to play," its subject has "no future, no plan," but finds love when it's least expected. ("Sunlight and sky playing tricks with my eyes; I had said my goodbyes, then suddenly you.") "I wanted to revisit some of the Latin themes," says Little Steven. "I love that sound, and it comes in and out throughout the album. It has a very South American summery vibe. It didn't get used on the show, but it fits quite well on this album."
Political Thriller
"Party Mambo!" is the album's primary Latin-themed rave-up, featuring a riot of brass and percussion and several additional musicians. It's perhaps the best example on the album of significant subject matter wrapped in a shiny coat of misdirection. It could easily be categorized as a fifth romantic drama, given that it's the story of a guy and a girl from different cultures meeting for "one evening of ecstasy," but there are deeper undercurrents. "I always try to integrate where politics meet relationships, where sex meets philosophy," says Little Steven. While he gives away nothing about the guy's background, he reveals that the girl practices the Santeria religion and is "plotting spiritual revenge" for the neglect of Puerto Rico by the United States after it was devastated by Hurricane Maria two years ago. While the band conjure up a misleadingly joyous Caribbean atmosphere, the backing singers chant the names of various spirits. ("Blood is hot, the dance contagious, primal screaming, let it bleed; They abandoned Puerto Rico in its hour of desperate need. Nowhere to run now, nowhere to hide; The deeper the suffering, the higher we rise.")
The remaining two overtly political songs, "Gravity" and "Education," settle comfortably into mid-paced grooves and convey messages as simple as their titles. Little Steven describes "Gravity" as "a straight-ahead James Brown song, a modern-day Humpty Dumpty story, reminding us that we've got to be humble in this life." It's a warning to corrupt world leaders ("presidents and power, a deadly combination") that their rise to infamy will inevitably be followed by an inglorious fall. Gravity will pull them down. "Better get ready to accept your fate, I got news, gravity don't negotiate. Your past gonna catch ya. Fate ain't gonna let ya. Terra Firma's gonna burn ya!" (Visualize your president of choice while playing this song for maximum personal satisfaction). "Education" is not radically different from its 1989 incarnation and continues to emphasize the concept that education is a weapon ("can't tell where we're going til we know where we're coming from"). This 30-year-old song has particular relevance in the United States today. "The education system needs to be improved. Teachers need to be supported. There needs to be more funding. That's what I'm trying to get across with my TeachRock program, and that's all in this song."
Gritty Urban Musical
"I Visit the Blues" is a powerful electric blues workout, featuring the horn section in full flow and a lengthy guitar solo by Little Steven. He covered "Blues Is My Business" on Soulfire, but on Summer of Sorcery he's succeeded in creating his own authentic-sounding blues composition ("I visit the blues, but I don't hang around too long") that incorporates traditional themes and includes the titles of several existing songs ("Love Disease," "Dust My Broom," and "Killing Floor"). "I've always loved the blues, but I've gotten deeper into that world these past few years," he says. "There's a wonderful carrying on of tradition that I respect. There's nothing more challenging than writing a song that's genre-specific. Writing something great is never easy, but writing something great in a specific genre where you're competing with all these legendary songs is pretty impressive. I think it turned out pretty good."
Trashy Teenage Pop Culture Pulp Fiction B-Movie
A Sam Cooke-inspired party celebration that Gary U.S. Bonds should cover immediately, "Soul Power Twist" is a perfect example of Little Steven channelling one of his musical heroes and creating a modern-day update on their classic sound. In an alternative universe far removed from today's computer-generated bullshit, where these things matter, he might have had a big fat hit with it himself. It's pure escapism ("It's an endless summer night, liberation's in the air; I want to say I love you, to everybody everywhere"), conjuring images of teenagers dancing at the local hop in a more innocent era, no doubt with the promise of a fumbled sexual encounter later on. Let's tryst again, like we did last summer. But no Little Steven song is complete without a subtext. Closer inspection suggests that the venue might also represent a destination where citizens of the world can escape violence, injustice and oppression, settle their differences, and celebrate life ("Believers are coming from miles around, they're here for sanctuary, walk some common ground; Black, white red, yellow, brown and grey, we're gonna be dancing our blues away!")
The first song to be previewed back in March, the hormone-fuelled rocker "Superfly Terraplane" acknowledges social, political, and environmental issues from the viewpoint of an idealistic teenager. It's mainly a hymn to youthful rebellion ("Hey old man, get outta my way, I got no interest in anything you got to say") but also references social media ("Attention deficit disorder's where I'm coming from; you get a hundred forty characters and then I'm done"), crooked politicians ("We're gonna make our own history, you can keep your alibis; And we don't need your politics, it's all lies, lies, lies"), the hole in the ozone layer ("Mr Babyboom, answer one thing before I fly; Which one of you assholes blew a hole in the sky?"), cleaner fuel technology and global warming ("We'll be painting this revolution ice-cold green, it's time to say goodbye to gasoline; The planet's getting too hot, it's making me mean") and the right to bear arms ("We don't need guns to have a blast, take that Second Amendment and shove it up your ass!").
Widescreen Panavision Epic
Unconventional in structure, the six-minute "Communion" and eight-minute "Summer of Sorcery" respectively open and close the album, occupying almost a quarter of its 60-minute running time. "Somebody open up the door, I'm back to rock some more," announces Little Steven, as "Communion" kicks into gear, repeating its message of "Harmony, Unity, Communion" over a driving beat that's often interrupted by a series of unusual tempo changes, bridges, and backing vocal sequences, which release tension before the band pick up the pace and race toward the climax. There's even a James Brown-style exhortation to "take it to the bridge!" "If I can state the entire theme of a song in a chorus, I'm happy," says Little Steven. "That's what this is all about. That's where I'm at. There's a bigger concern of mine right now. It's not that we need to transcend politics, but I think finding some common ground is far more important than being on one side or the other. It's summed up by the first song, the first title, the first chorus."
Described as a "mission statement" in the press release, the majestic, otherworldly title track wafts in on a sea of acoustic guitars, adopts an insistent rhythm, and flows inexorably forward, gradually building and developing, rising and falling, adding pounding drums, horns and backing vocals, some Duane Eddy-style guitar, an ethereal sax solo, stirring strings and surreal, stream-of-consciousness vocals ("I want to be the sound in your symphony of tranquillity, love forever in your garden of unexpected opportunity; I want to get lost in your festival of unlimited possibility, I want to be transformed by your summer of sorcery"). Other images include sexual experience ("Sweet submission in the shadow of the old abandoned dog run. You stood naked and dreaming in gilded pallor in the muted light of the August moon; Until visions of eternity strangled your words and fear of the infinite flared in your eyes and you left me too soon") and childhood memory ("The echo of the jukebox on the pavement in the summer camp so far away"). There's even a nod to Little Steven's most famous song ("I want to touch the sky with you").
"The whole theme of the album is summed up in that song," said Little Steven. "That wizardry, that magic mixture of falling in love in the summer. A lot of that stuff remains unrealized. Those fantasies, the unlimited possibilities when you first fall in love or when you're filled with sexual desire that's just so intense." In a recent interview for Rolling Stone, he said that this song was "relatively new territory for me, I'd never wandered into that Van Morrison area very often," which might explain the inclusion of the line "my sense of wonder is alive again." Compositionally unlike anything else in Little Steven's back catalogue, "Summer of Sorcery" eventually fades slowly into the sunset and brings the album to a close as the sky fades to black and lovers huddle together as the evening chill sets in. "I want to be your happy end, I want to start all over again," he sings near the end, which is what the discerning listener will be inspired to do once they reach the conclusion of this multicoloured, multifaceted, melting pot of a record.
In my Backstreets review of Soulfire, I compared the album to a sumptuous banquet, infused with many intoxicating musical flavours. This also applies to Summer of Sorcery, except that the recipe has several new ingredients and a different concept. Instead of being a second helping, it's a different meal in another restaurant, created by the same chef. Another music in a different kitchen, to borrow a Buzzcocks title. Better still, it's an exotic, backward-looking, forward-thinking, golden-colored, sunshine-flavored, psychedelic cocktail. A heady brew that's thought-provoking and dance-inducing, doesn't take itself too seriously, and incorporates the proven health benefits of Vitamin D. The creative emphasis is on radiating positive vibes, finding common ground, and having fun, fun, fun until your daddy takes the T-Bird away. Or in this case, the candy apple, fuel-injected, ragtop, Superfly Terraplane.
In his introductory notes, Little Steven says, "Gathered here as if by wizardry is our latest collection of tales, fables, parables and incantations, intended to reconnect the jaded, wounded, and disappointed to the wonder that first made our eyes open, our hearts beat, our genitals hungry." Before sampling his latest concoction, be sure to apply feelgood factor sun protection, wear cool shades for maximum effect, and pump up the volume. Then bask in its warmth and savor its healing rays. If it's raining, just use your imagination. A few sips will transport you back to a magical time when anything was possible and real music ruled the airwaves. You will be reminded that no matter how bad things get there will always be love and hope and sex and dreams and inspirational, big-band rock and soul music like this to provide the soundtrack to the movie of your life. You can't ask more from a record than that.
"Only way to take you higher, let the music get inside ya! Everybody say Harmony, Unity, Communion."
Hey bartender, pour me another and have one yourself, I'm going to be watching this movie all night long.
THE END
Roll Credits
Summer of Sorcery is available on streaming/digital download, compact disc, and double vinyl. There's also a limited-run "psychedelic swirl" vinyl edition, exclusive to uDiscover Music. Little Steven and the Disciples of Soul will be performing these songs and many more in a town near you this summer and fall. Check littlesteven.com for details.